Saturday 4th August or Saturday 8th September
10.30am – 4pm
£60.00 Including all materials
Mixed Media Memories Workshop
Platform Gallery Clitheroe
If you enjoy experimenting with mixed media techniques including embroidery, collage and montage, then this is a great opportunity to create a concertina book based on memories. You will be using layering techniques with images and text, papers and fabrics, which will be fused together with wax. You will be able toembellish your work with embroidery, buttons, ribbons or lace and add this to your concertina book of memories. All materials will be provided on the workshop unless you have any specific materials that you would like to bring to use. Suitable for age 14yrs +, refreshments will be provided on the day, however you will need to bring lunch or alternatively there is a good choice of venues wher you can buy lunch in Clitheroe.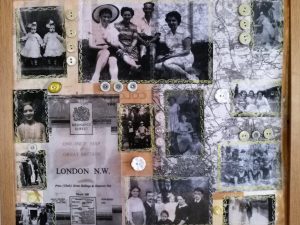 For more information about this workshop please contact
Christine Stanford
e: christinestanford2020@gmail.com
m: 07802425944
For information on parking or directions on how to get to the venue please click on the link below, it will take to the website.
http://www.ribblevalley.gov.uk/platformgallery