TEXTILE ARTIST AND TUTOR
Farfield Mill
Garsdale Road Sedbergh LA10 5LW
Open 10am – 4pm Wednesday – Sunday
Exspiravite 
Touring Exhibition
Expiravite is a touring exhibition which launched at Gawthorpe Hall and was influenced by the Rachel Kay Shuttleworth Textile Collection. I decided that I wanted to pay tribute to Rachel who was the last person to live in the house and was very keen to invite local people in to practice arts and crafts. The dress that I created for this exhibition is made from layers of painted teabag paper which has small images trapped between the layers. I apply hot wax and then iron it out to leave a tactile feel to the material and embellish the paper with free machine embroidery. The elongated dress which has a large collar and extra long sleeves was designed to have a prescience in the window of the gallery. To pay tribute to Rachel Kay Shuttleworth I trapped copies of fragments of the notes written in green ink into resin buttons.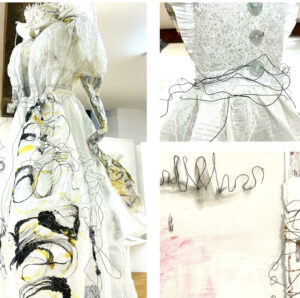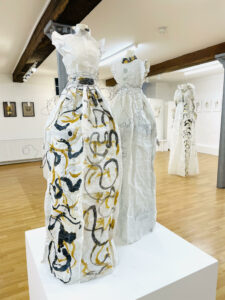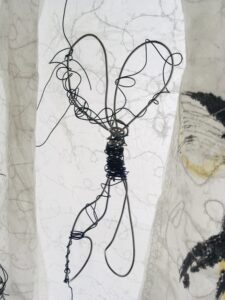 The Howarth Art Gallery Accrington
November 2019 – February 2020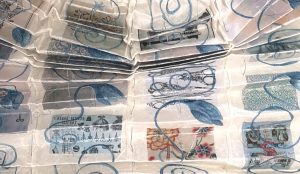 Retracing steps was the perfect opportunity for me to revisit my love of the opulence and grandeur of costume as an art form. My work has always had a strong theme of social history running through it  with the emphasis being about woman's lives. The Haworth Art Gallery is the ideal setting for historical costume giving me inspiration in abundance. I decided to look back at my work from my days at Manchester Metropolitan University where I spent a lot of my time studying costume at the Platt Hall of costume and the Fashion Museum in Bath. Although I do get commissions to make costumes, with my work I like to challenge myself by using unconventional materials.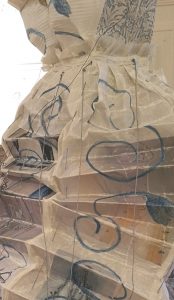 The work in this exhibition is based on costume from the 1900's which would have been the time when the Haworth was the residency of William Haworth and his sister Anne. The process of my work is a development of painting designs onto teabag paper and trapping images between layers of hot wax which I manipulate with stitch, pleating, touching, folding and embellished with buttons, and ribbons. The tools are a creation from looking at sewing implements that would have been used regularly.
christinestanford2020@gmail.com